As a trusted provider of total cleaning solutions for diverse hospitality owners and operators, OMNI Solutions offers superior technology and products, unmatched service and expert knowledge of the lodging industry. Our services support the hospitality industry by providing guest satisfaction through ensuring clean, safe and comfortable environments, all in the most sustainable ways.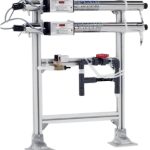 According to market research, 70% of laundry professionals in the hospitality industry said stain removal was their biggest challenge. OMNI Solutions' LUX Hydroxyl System supercharges in-house laundry systems. Utilizing a safe, UV light technology, the LUX Generator turns room air into earth's strongest oxidizer: Hydroxyl radicals. 500 times more powerful than hot water and bleach, the system kills bacteria viruses and superbugs and removes oil, dirt and stain better than detergents with hot water. Further, OMNI Solutions technologies reduce energy and consumption, extend the average linen life by 20% or more and offer a better operational efficiency in the laundry facility.
Ultraviolet Water Disinfection System
The quality of water can change with time and become contaminated with harmful bacterial. The threat from a contaminated water pipe can exist when the Legionella bacteria finds a breeding ground within the piping system. Contaminated water sources, and more specifically contaminated water distribution in large buildings such as hotels and resorts, can lead to Legionnaires disease and Pontiac fever if large numbers of the microorganisms are either inhaled or aspired into the body. UV light is extremely effective at the inactivation of Legionella at low dose levels. Different species of Legionella require different dose levels for inactivation.
OMNI Solutions' Ultraviolet Water Disinfection System specifically targets and eliminates bacteria in water sources, such as Legionella, through proven product performance. Contact an OMNI Solutions Water Specialist today to determine the best OMNI product for your specific application needs.