Preventing healthcare-associated infections is essential to the success of any healthcare organization. OMNI Solutions' innovative technology solutions and industry-leading customer support provides an added layer of protection to improve patient safety and help ensure your linens are hygienically clean.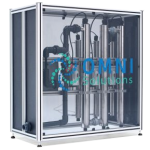 SULAOS Smart Ultraviolet Light Advanced Oxidation System is an advanced UV technology that offers advanced protection for healthcare linen. Engineered for use with tunnel washers, SULAOS reduces water and energy consumption, extends linen longevity, and reduces bioburden in the reuse water stream.  This results in the optimal environment for chemicals to clean, adding a layer of protection to help improve patient, guest, and employee safety while helping to ensure lines maintain a higher level of clean.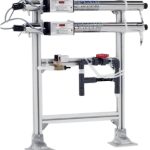 OMNI Solutions' LUX Hydroxyl System supercharges in-house laundry systems. Utilizing a safe UV technology, the LUX Generator turns room air into earth's strongest oxidizer: Hydroxyl radicals. Many times more powerful than hot water and bleach, the system is proven to kill SARS-CoV-2, the virus causing COVID-19, as well as C. diff and MRSA, and removes oil, dirt, and stains better than detergents with hot water. Further, OMNI Solutions' technologies help to reduce energy and consumption, extending the average linen life by 20% or more, and offering better operational efficiency in the laundry facility.
Ultraviolet Water Disinfection System
The quality of water - be it for hand washing or drinking - can change with time and become contaminated with harmful bacteria. The threat from a contaminated water pipe can exist when the Legionella bacteria finds a breeding ground within the piping system. Contaminated water sources, and more specifically contaminated water distribution in large buildings such as hospitals, can lead to Legionnaires disease and Pontiac fever if large numbers of the microorganisms are either inhaled or aspired into the body. UV light is extremely effective at the inactivation of Legionella at low dose levels. Different species of Legionella require different dose levels for inactivation.
Contact an OMNI Solutions Water Specialist today to determine the best OMNI product for your specific application needs.