OMNI Solutions delivers unparalleled expertise to commercial laundries. Our technologies and solutions deliver cleaner, softer results while optimizing operational efficiencies throughout the laundry facility. Our technologies are designed to adapt to and super charge both continuous batch washers and on-premise laundry systems. Our technologies utilize hydroxyl radicals to break down organic materials in the textiles and linens, providing outstanding cleaning and disinfection, while significantly reducing utility costs.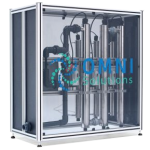 OMNI Solutions Smart Ultraviolet Light Advanced Oxidation System (SULAOS) has revolutionized the laundry process by dissolving organic materials through an enhanced oxidation process for Tunnel Washers. SULAOS reduces water and energy consumption, extends linen longevity, and helps to ensure linen and textiles maintain a higher standard of clean.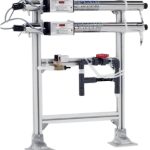 OMNI Solutions' LUX Hydroxyl System supercharges in-house laundry systems. Utilizing a safe UV technology, the LUX Generator turns room air into earth's strongest oxidizer: Hydroxyl radicals. Many times more powerful than hot water and bleach, the system is proven to kill SARS-CoV-2, the virus causing COVID-19, as well as C. diff and MRSA, and removes oil, dirt, and stains better than detergents with hot water. Further, OMNI Solutions' technologies help to reduce energy and consumption, extending the average linen life by 20% or more, and offering better operational efficiency in the laundry facility.
The pressure to "go green" is making itself felt in the institutional laundry industry. Environmental regulations pertaining to the use of chemicals are speeding forward and concerns regarding water and energy conservation are more prevalent than ever. OMNI Solutions UV water treatment technologies are extremely effective in reducing bioburden in laundry systems, cooling towers, portable water tanks, and drinking water.
Visit our Legionella and Global Applications pages to learn more about what OMNI has to offer, or contact us today to talk to an OMNI Solutions Specialist to determine the best OMNI product for your specific application needs.